Chinese Torture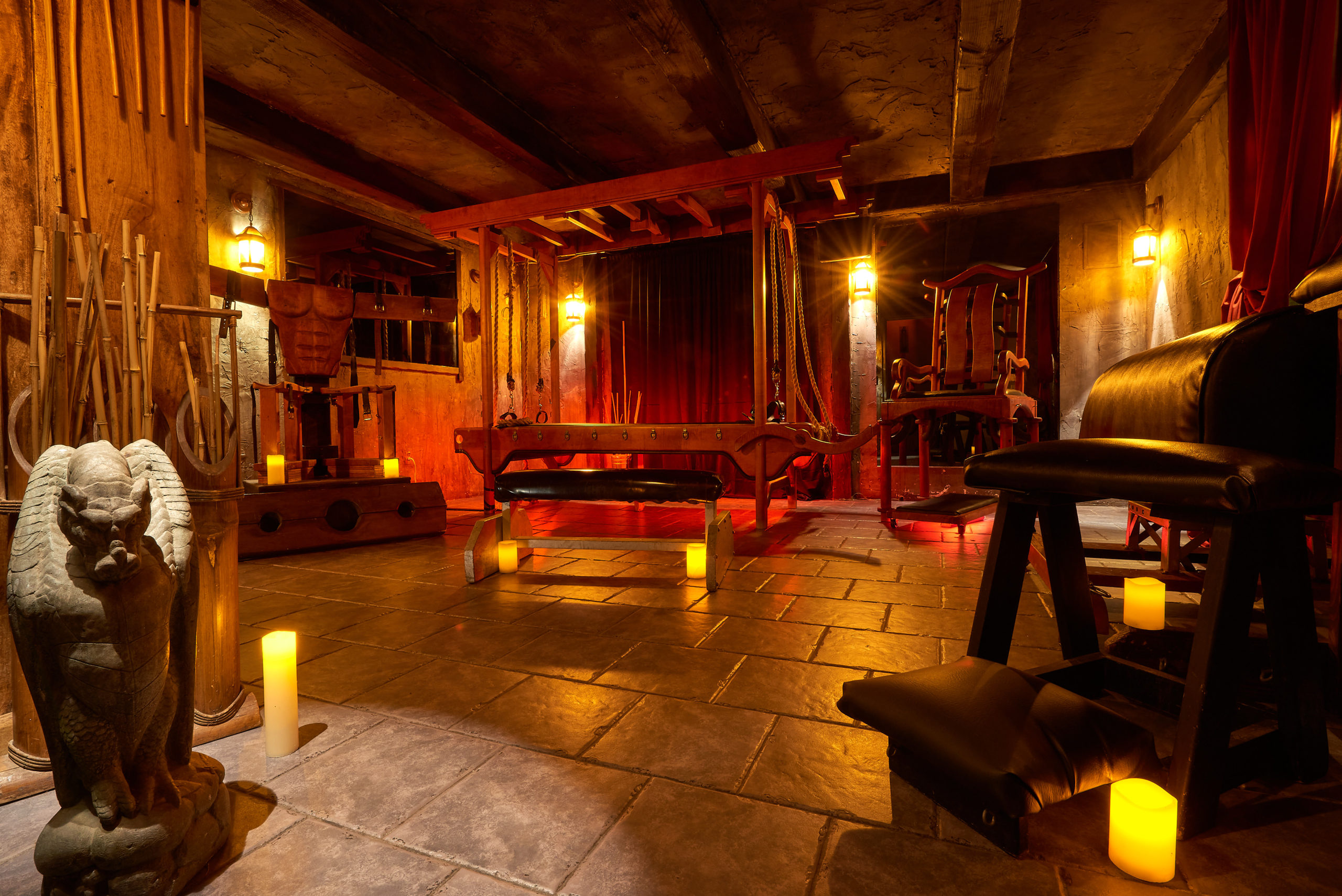 Tremble as you behold so many instruments of pain.  As you crawl before your Master, your eyes attempting to focus upon the lantern lit chamber you will realize your fate has already been sealed. Our sexy Wardens will keep you locked up begging for mercy. A spanking bench, CBT bondage chair with adjustable legs, a foot worship throne, a 9 ft. double sided rack with overhead bondage suspension, each piece has been hand carved by a master craftsmen whose painstaking attention was riveted upon realizing the authenticity of these reproductions. The room also boasts a leather swing for play fantasies and for the ultimate in Japanese bondage a four point suspension wooden restraint cage.
The Sanctum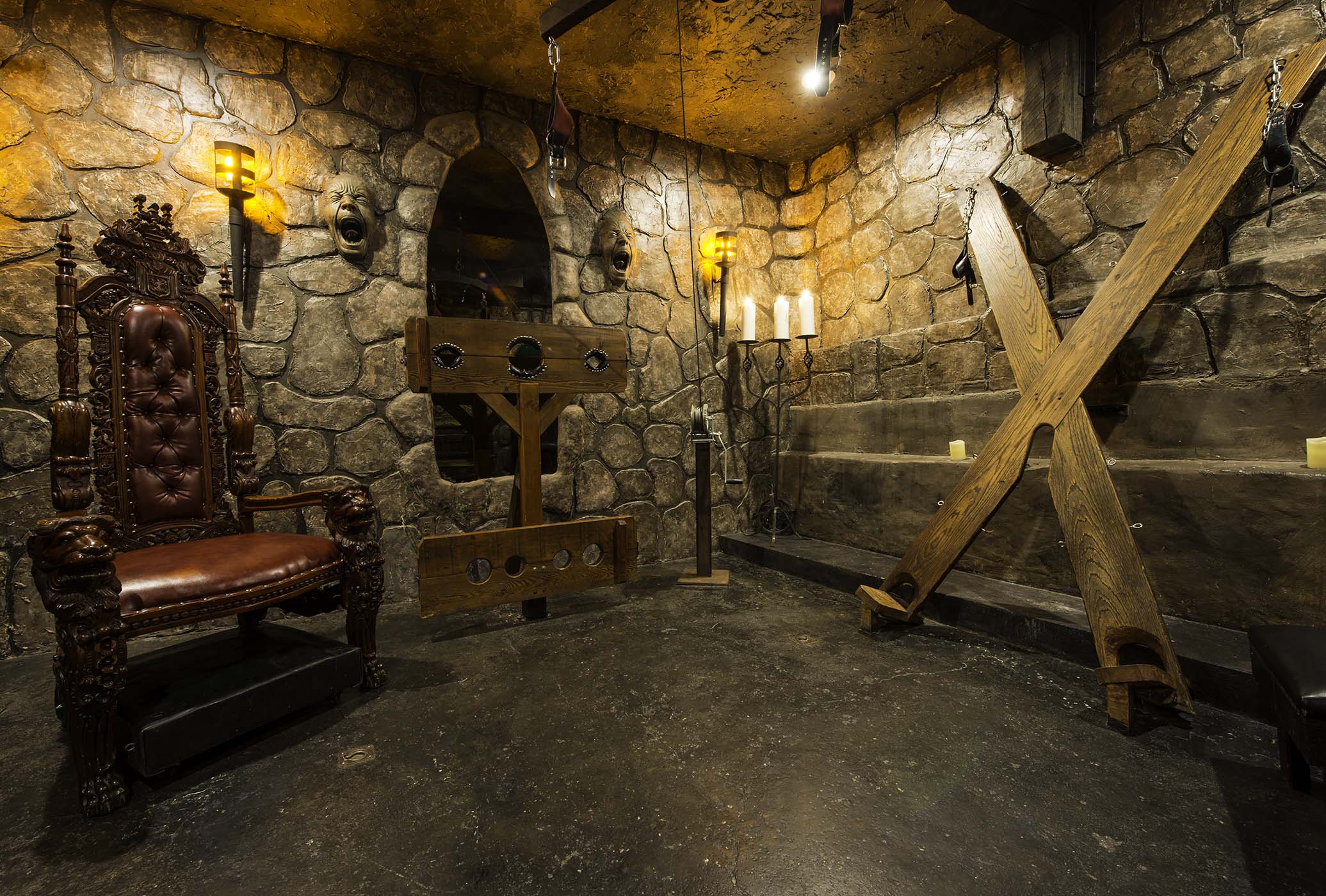 The Spanish Inquisition inspired this replica of a sixteenth century church. Its stone walls, archways serve as the perfect setting for an hour or more of ritualistic pain and pleasure administered and enjoyed by the satanic sadomasochists who inhabit it.
You will stand before your Inquisitor, stripped naked and publicly humiliated. This will be followed by hours of interrogation, electric shock torture, beatings and whippings. Hot wax will be poured over your cock and balls and your nipples pierced by white hot needles.
The Highlight of the Sanctum includes its wheel of agony for those souls brave enough to ride it. Exact replicas of the instruments of torture utilized during the Inquisition were painstakingly produced by our master craftsmen.
You will endure the searing pain of ball busting but no one will hear you scream and thrown hooded and naked into the Sanctum Keep for hours or maybe days.
Ming Palace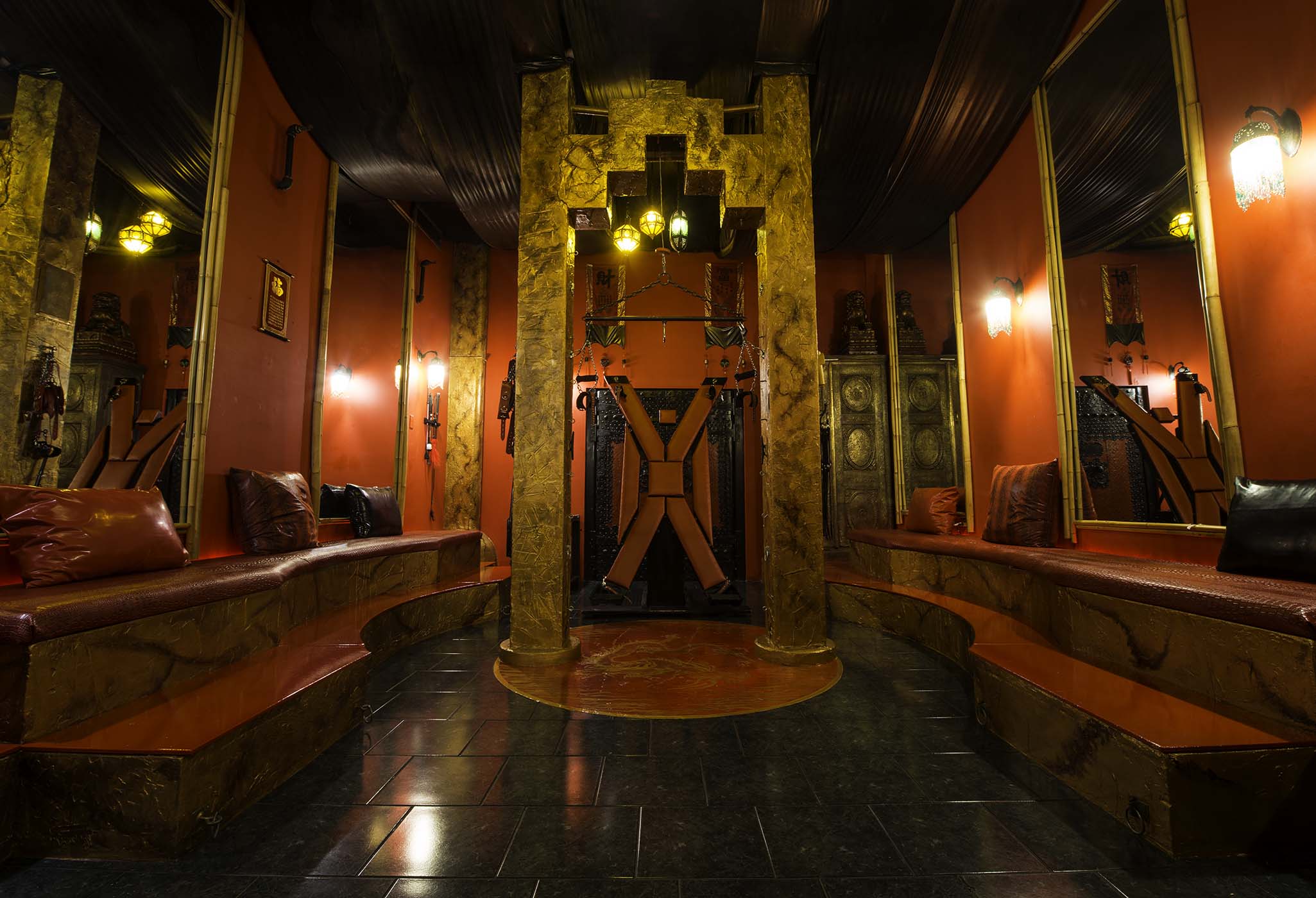 Travel back in time to the twelfth century into the palace of a Chinese Warlord.
The room is resplendent with silk fabrics, oriental rugs, gold dusted walls, jade floors and ornate columns, and statues.
The Queens elaborate Palace is extensively used for public humiliation floggings, nipple play, CBT, rope bondage, foot fetish worship, hot wax and cigarette torture, objectification, degradation, spitting, and humiliation.
Here in the Palace you may find yourself kneeling before your mistress as she sits upon her elaborate throne contemplating your fate.
Why might that fate be? Perhaps suspended between two gold encrusted pillars; or your back laid bare crisscrossed with crimson welts expertly laid upon you by the beautiful warlord's weapons.
Pink Boudoir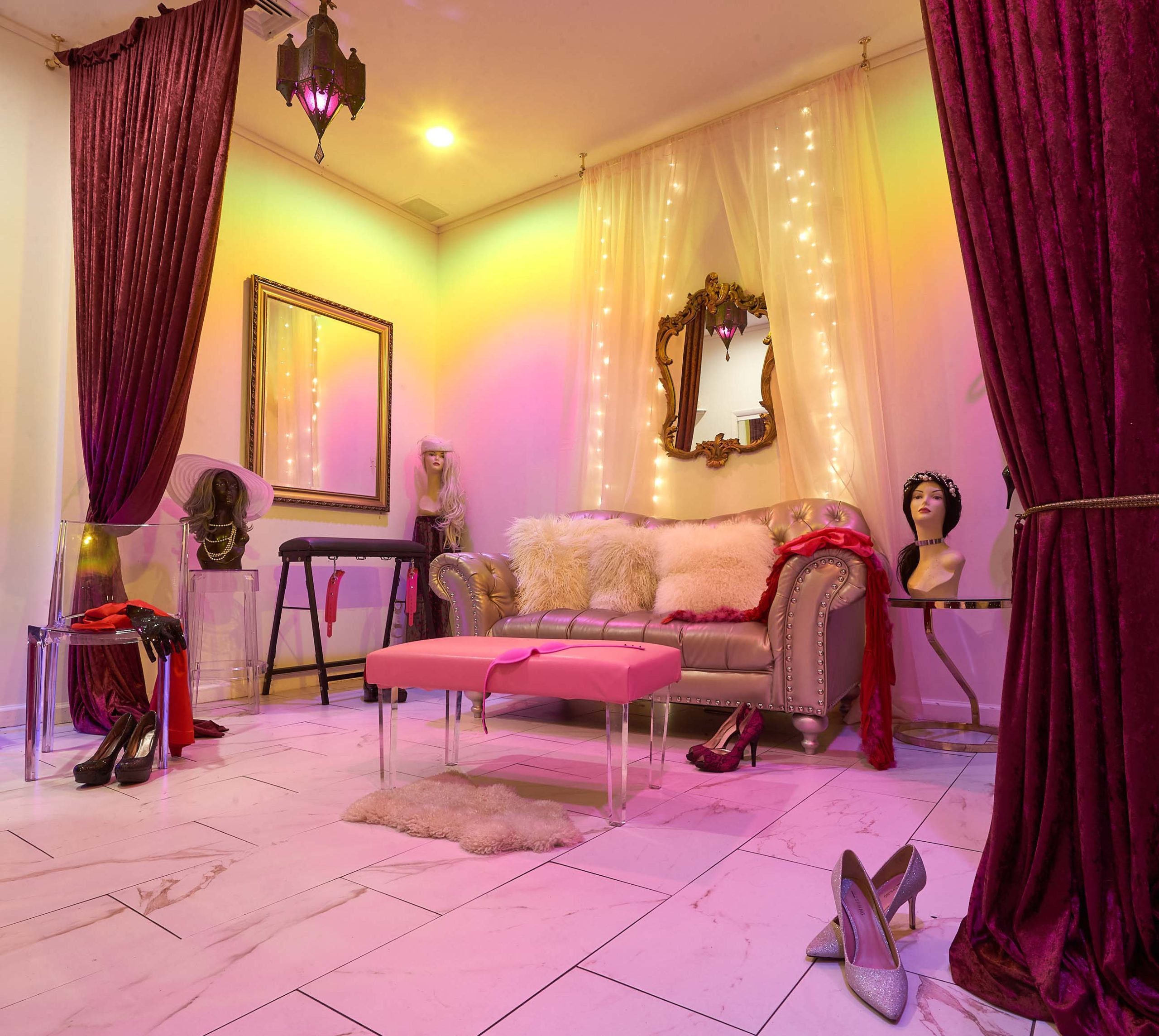 In the Pink Boudoir you will find an abundance of corsets, garter belts, stockings and petticoats, fishnets and mini skirts, high heel stilettos, boots, wigs and makeup, everything a girl needs to ultra feminize herself.
Transvestites, sissy maids and cross dressing sluts of all shapes and sizes are welcome to our "Pink Boudoir".
Some of the services featured here are petticoat training, lessons in make-up application and female etiquette, and house cleaning training.
Once your session begins of our gorgeous Mistresses will take you on your journey from male to female and train you to be the woman of your dreams. Perhaps you will be dressed as a French Maid and serve tea to your Mistress or be taken out shopping for a new bra and panties and those of you wish to explore and play out your dirty little fantasies," be careful what you wish for".
You will be dressed like the sluts that you are and used as a source of entertainment for your cruel captors.
Medical Chamber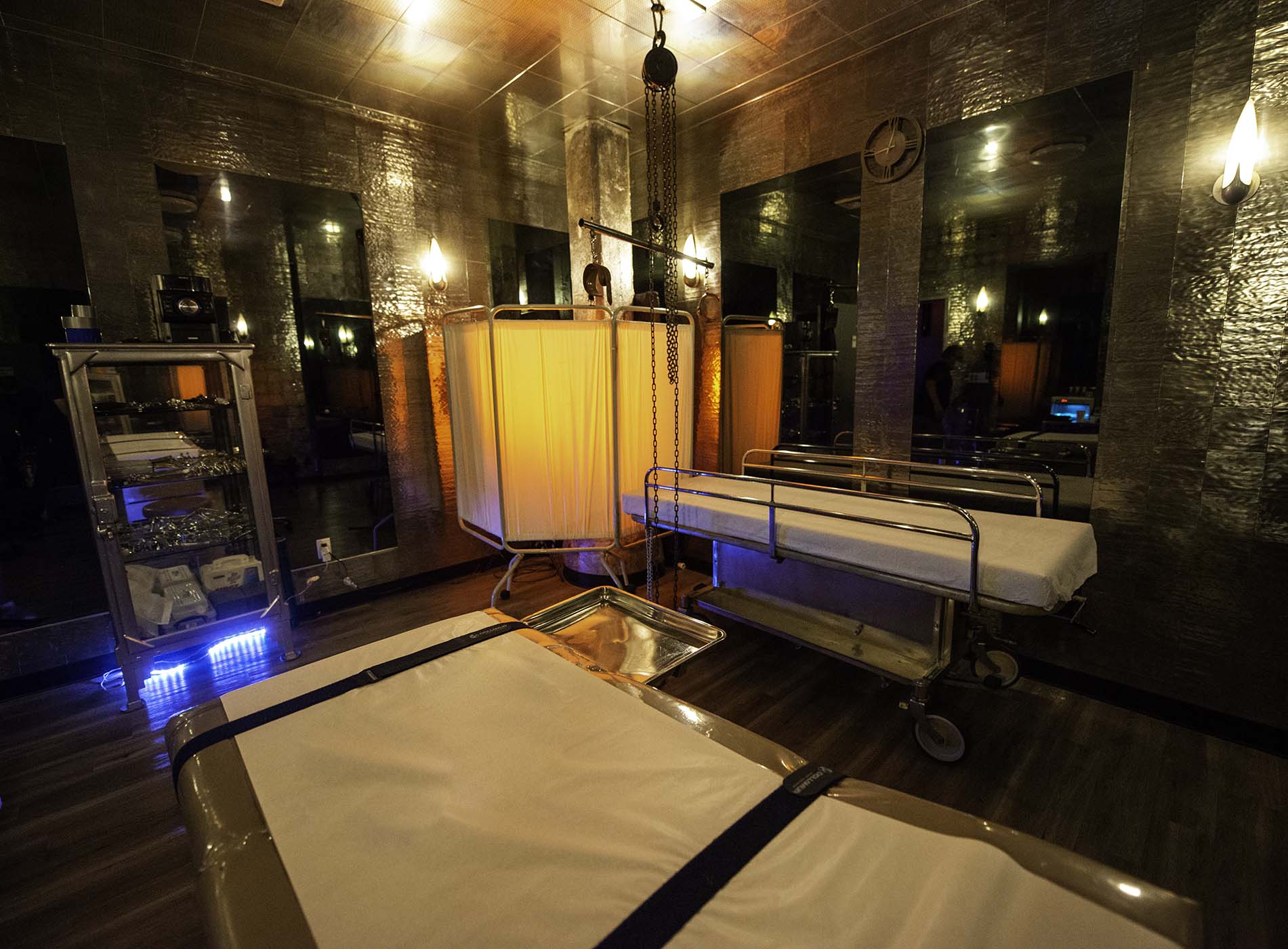 The Medical Chamber was inspired by the sleek deco design of Fritz Lang's Metropolis. Beneath the spider like chrome chandeliers, within the puckered chrome walls lie an antiqued gun metal hued cushioned ob-gyn table, a padded chrome gurney, an authentic early turn of the twentieth century wheel chair replete with leather restraints for the wicked and incorrigibly insane.
This room is used extensively for enemas, water sports, electric shock torture, violet wand play, behavior modification, piercings, catheters and sounds.
The room contains an extensive array of surgical tools. We also offer unconventional therapeutic aids including but not limited to tens units, violet wands and single use/disposable medical necessities. The room contains an extensive array of surgical tools.
We also offer unconventional therapeutic aids including but not limited to tens units, violet wands and single use/disposable medical necessities. The medical room has its own spa-like bathroom.
Shibari Room At Pandora's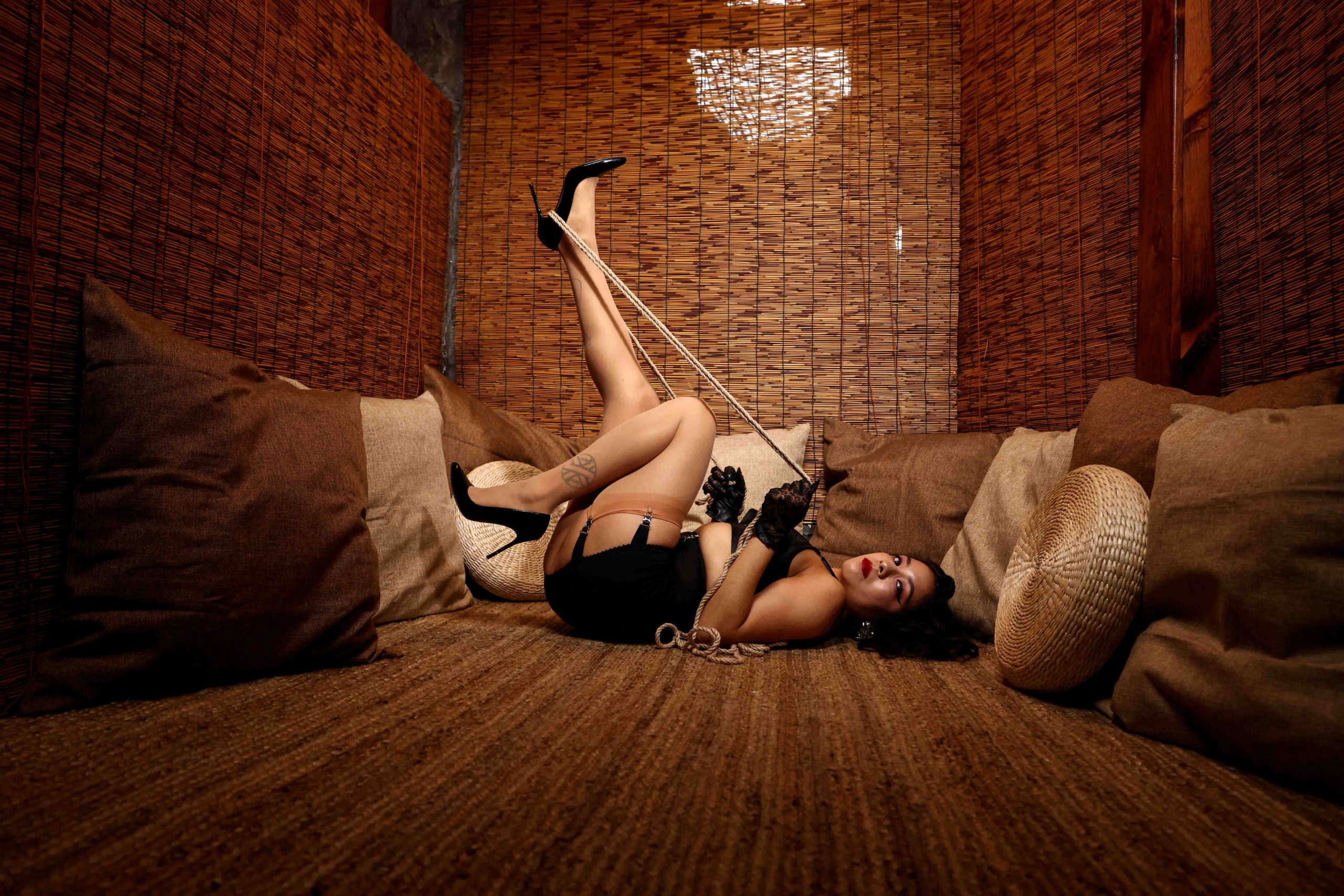 Enter the tranquil realm of Pandora's Box newest Shibari Room promoting serenity for safe full-body bondage and suspension.
More on Pandora's Box Shibari Room
Wrestling Room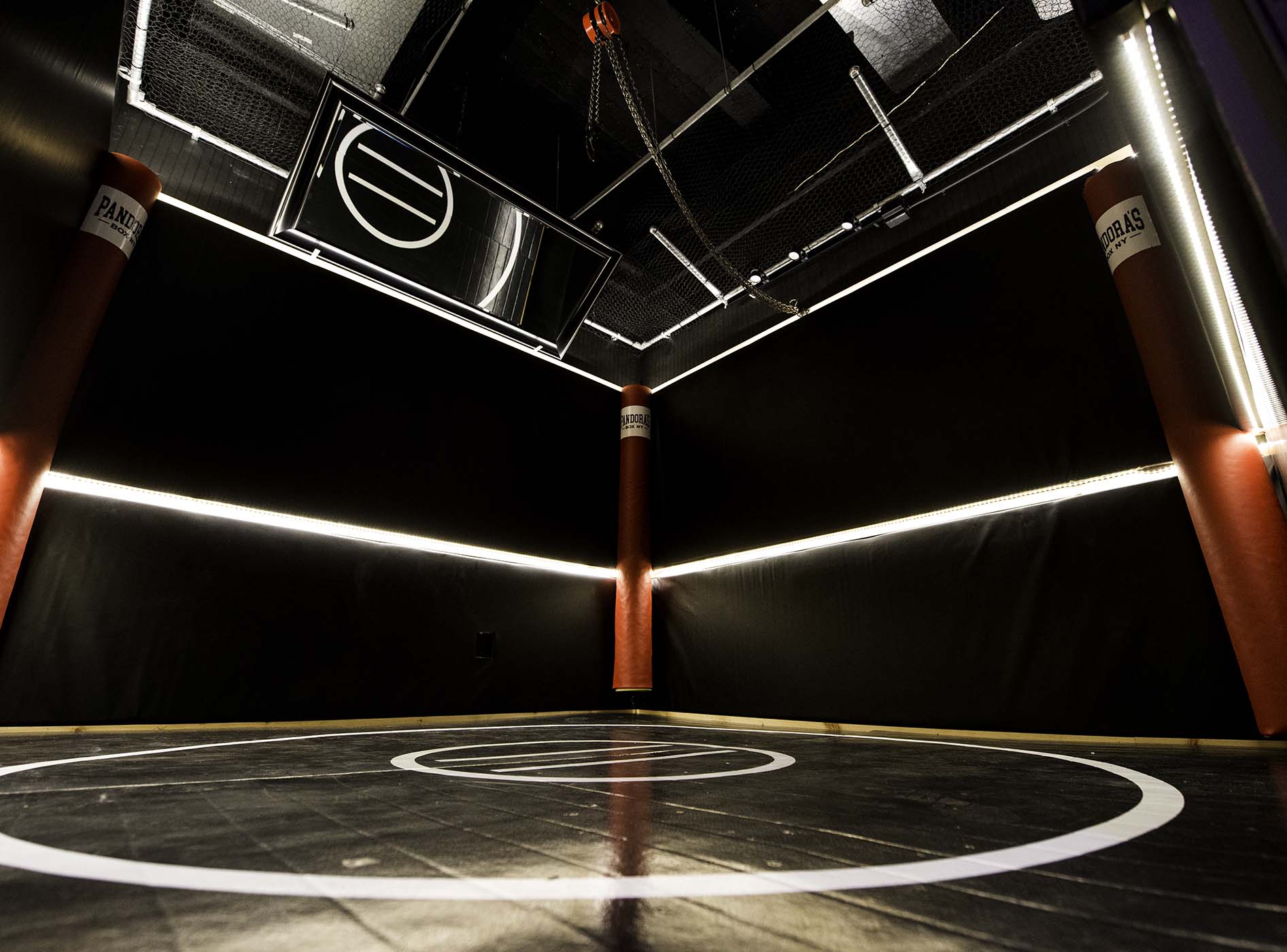 Pandora's Box NY is New York's premier mixed wrestling room offering the best in female combat.
We offer beautiful, highly skilled fighters all shapes and sizes.
From fantasy to full on combat, these skillful beautiful jewels will contort you into positions of pleasure and pain.
Our redesigned room is complete with padded walls and floors for professional competition. Gloves and head-gear are available.
These powerful women will compel you and love to get your heart racing with excitement and anticipation.
Each Mistress is gifted with various skills from: martial arts, boxing, MMA, bondage wrestling, fantasy wrestling and muscle worship.
Soon your back will be on the mat, while looking up at one of these fierce Dominas.
For those of you into bondage, a hoist has been installed into the building beam creating the highest lift point available at Pandora's Box NY.
Click Here for More Information.
Classroom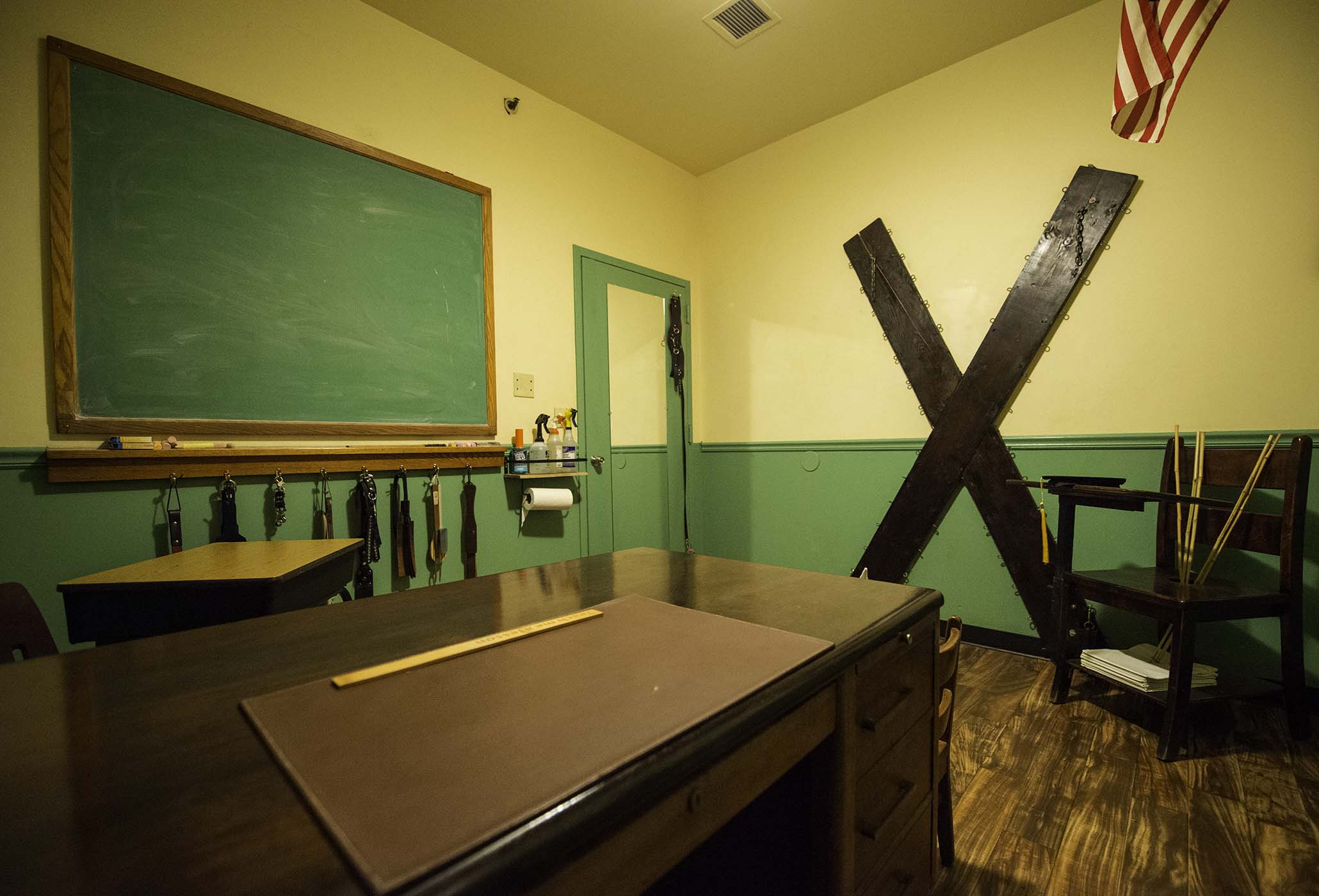 The Pandora's Box Classroom is an ideal setting for naughty students.
Corporal punishment is the favored method of dealing with class disruptions. Caning, over the knee spankings and time spent on the St. Andrews cross while enduring CBT and nipple torture are some of our Mistresses favorite behavior modification games.
As in most schools, most of your Mistress's time is spent on her feet; So Teacher's pets forget those shiny apples as you will spend your class time providing foot worship for their tired feet.
Every classroom has a fool and your time will be spent sitting on a stool in the corner wearing your dunce cap or writing a thousand times on the black board "I am an idiot".
Before enrolling, be forewarned there are no snow days, holidays or summer recess.  Admissions begin now!