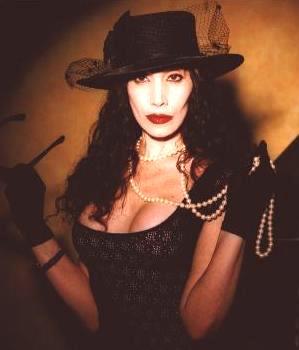 When Prometheus stole fire from heaven, Zeus took vengeance by presenting Pandora to Epimetheus, Prometheus' brother. With her, Pandora had a jar which she was not to open under any circumstance. Impelled by her natural curiosity, Pandora opened the jar, and all evil contained escaped and spread over the earth. She hastened to close the lid, but the whole contents of the jar had escaped, except for one thing which lay at the bottom, and that was Hope.
I admit I was a bit apprehensive about visiting Mistress Raven, the proprietor of Pandora's Box, "New York City's most elite and upscale S&M dungeon." After all, my foremost memory of Raven was watching her pop a lit cigarette into some slave's mouth, in Nick Broomfield's documentary Fetishes, as if she were throwing the doggy a bone. Incredibly, she didn't bat an eye during the process — nor did the human ashtray, for that matter, which was a pretty impressive feat, in and of itself, come to think of it. Nevertheless, I found myself shouldering some pretty heavy baggage in my preconception of what Pandora's Box would be like. I had never been to a dungeon before and I envisioned people dangling from the ceilings via hooks through their flesh, a stray man or two crawling about clad in nothing but a dog collar, and an obligatory whip ready to work its wonders on yours truly, whether I liked it or not. Needless to say, my stereotypes were quickly banished soon upon my arrival at Pandora's Box. Mistress Raven met me at the door. Elegant and courteous, showing surprising signs of matronly warmth, she led me, that is, showed me to her office where we chatted for the better part of an hour. One of the first things that strikes you about Raven is her piercing good looks, accented by a mane of long jet black hair, large breasts, and full lips well-painted with blood-red lipstick. Put simply, she was clearly born to be a dominatrix. We somehow got started on the subject of the English…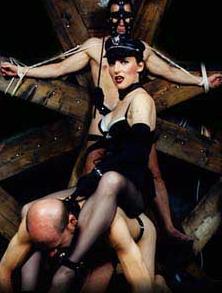 The Catherine Wheel in the Dungeon Room at Pandora's Box"They're the kinkiest people in the world," said Raven, "you know what goes on in the Parliament. Come on. It nearly collapsed a couple of years ago, with that whole Christine Keeler thing. I just saw something the other day, one of the ministers came out that he was gay, and that was on the heels of three other sex scandals. Forget Clinton, we're moderate compared to them. Over there, they have what they call public schools, which are in our parlance, private schools. They're very disciplinary. Nannies, governesses, spankings, rulers — this is what they're raised on."
Mistress Raven emphasized her point by clapping her hands in a mock spanking. Apparently, she hadn't lost her touch, although, as owner of Pandora's, she had long ago ceased to actively engage in sessions. I asked her about the clientele. Were they all male? "Ninety-nine percent male. The reason why…" She leaned forward and whispered, "Women don't have to pay for it. Men, on the other hand… " Mistress Raven leaned back and continued, "Most of our clients, I'm sure you are aware, are upscale. Businessmen, doctors, lawyers, politicians, and entertainers. And many, many of them are married people who care for their partners but their partners don't want to get involved in their fetishes, so they go to a professional service."
She turned to gaze out of her 18th Street window. "Men aren't allowed to show emotion," she said as a few car horns blared below. "They keep being told they have to be the strong ones. They are the ones that are always in charge, who are running the businesses, who are running their families, who are paying the bills. And that pressure, that responsibility is foreboding. They need to lose that pressure, that control. And this is what the dominatrix does for them." 

Generally speaking, I wondered, do the dominatixes enjoy their work? "Being dominant is a very hard job," Raven explained. "You're creating the scenario. You're writing the entire script. You're doing all the labor. You know, submissives, they have it easy. They're not so stupid. They're very smart. Who's doing all the work? The mistress is supposedly in charge. But she's doing the lighting, the music. She's doing all the physical tying up and whatever the punishment is. She's wearing the high heels and the corset, while he's sitting there nice and cozy and comfy and just responding. So who's really serving whom?" "But he's gotta wear the rubber suit, right?" I interjected. "Only if he's into rubber. Usually he's just wearing a little g-string and that's about it." "Speaking of which," I said. "There's obviously a sexual element to all this. How does that work?" "Most of the clients, believe it or not, are not interested in release. If they are, the dominatrix points them into some nice little corner somewhere and they relieve themselves." I thought about this for a second and said, "I wanted to ask you more about the actual profession. I guess a good place to start would be –" "Are you interested?" "Me?" Mistress Raven nodded. I yanked at my collar and mumbled something about not wanting to pollute my fantasies with reality, about being true to my wife and my psychotherapist, and then quickly forged ahead with a less subjective topic of conversation, the obligatory question: "How does a women become a dominatrix?"
"Most of the women I know –" here, Raven went back into a whisper — "generally were introduced to it by men." She paused and resumed her natural voice. "Now, I can't say there wasn't some sort of hidden something going on already that perhaps attracted the men initially to them. In my particular case, it was my husband, and as it is with everything in my life, I became more and more intrigued by it."
Eventually, it was time for a tour of the facilities. Mistress Raven brought me upstairs and showed me the various rooms in which sessions take place, including the school room (aka Ravenswood University), the Versailles Room (a French Gothic looking sort of place), and the Role Play Room (which looked to be straight out of 42nd Street). My easy favorite was the Medical Room, complete with gleaming white tiles, mirrors, a bondage bed, and a white leather arm harness in which one could be suspended from the ceiling, should he so desire. Mistress Raven pointed to a slight blemish in the otherwise immaculate room, a small gash in the padding of the bondage table. "I tell them a million times to keep off the table with their high heels," she said with dismay. "But do they listen?" I commiserated by shaking my head and then commented about what a clean establishment Pandora's was. "I hire a cleaning person," Mistress Raven responded. "You can't rely on slaves."
We headed to the elevator where she introduced me to Mistress Maxim (pronounced MAX-EEM), a beautiful brunette who showed me some nice snapshots of her inserting pins into a man's chest. (Judging by the photos, her mood brightened considerably as the process wore on.) The mistresses then accompanied me to the street where we said our good-byes. Mistress Maxim suggested that I "write something nice about us or we'll come after you." I think I've pretty much complied with her orders. After all, that's what you're supposed to do in these places, isn't it?
December 1998
Other Links
The Daily Page Fetishes Movie Review
Roger Ebert Fetishes Movie Review
Movie Gazette Fetishes Movie Review
Spinning Image Fetishes Movie Review